Tibor Németh (senior lecturer, ELTE) visited GTK (9 to 20 October 2021) in the frame of staff exchange focused on the research of clay minerals.
XRD mineralogical and clay mineralogical studies were carried out on seven well-described soil samples representing Chernozems and Luvisols of Hungary. Two samples were studied with the cutting-edge 3D computed micro-tomography (XCT) and micro X-ray fluorescence spectroscopy (μ-XRF) instruments of the GTK.
Besides the laboratory works, the important part was the exchange the experiences with Pasi Heikkila, the responsible supervisor, in the field of modern XRD techniques used in mineralogy, particularly clay mineralogy. As the consequence of the different geology, significantly different clay minerals occur in Hungary and Finland.
With this object, Tibor Németh held two one-hour online talks during his stay at GTK with titles "Clay mineralogical studies related to nuclear waste deposition in Hungary" and "Clay minerals and their properties in soils".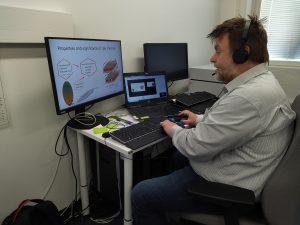 Tibor Németh got new experiences on quantitative mineral composition determination, including the sample preparation and profile refining strategies, particularly for feldspars. He also learned the benefits of XCT and μ-XRF methods and their suitability for the micro-textural and micro-chemical study of soil samples.