Hana Ben Mahrez (PhD student at ELTE) participated in The International Lithosphere Program Task Force VI Sedimentary Basins conference that took place between 17 and 19 November 2021 in Rueil Malmaison, Paris, France.
Hana had a poster presentation about the Decomposition of fluvio-deltaic sediments into hydro-stratigraphic units: seismic geomorphology and well evaluation, Pannonian Basin, Hungary. With her outstanding presentation, she was awarded the best student poster presentation prize.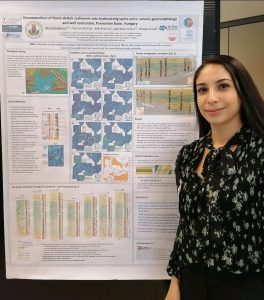 During the conference, Hana had the chance to participate in a field trip (Fontainebleau Massif) and to listen to presentations on her research topic. It was a great experience for her, where she could gain new knowledge and share her research findings with other experts from all over the world.