Due to the continuing pandemic situation, this year the annual EGU General Assembly was held online (just like in 2020). The events of the EGU 2021 conference were scheduled between 19-30 April 2021, in which 8 representatives of the ELTE ENeRAG Team were also present.
vEGU21 has included 18,155 scientists from 136 countries, attending 13,643 live presentations in 642 scientific sessions.
On this online event, RGFC-IAH (Regional Groundwater Flow Commission of International Association of Hydrogeologists) organized a session named "The role of groundwater flow systems in solving water management and environmental problems". One of the session convenors was Judit Mádl-Szőnyi (scientific coordinator of ENeRAG). In this session, Katalin Csondor presented her research as well. The title and the abstract of her presentation: Karst evolution, hydrocarbon and geothermal resources in flow system context (South Hungary).

Judit Mádl-Szőnyi as convenor at the vEGU21 Assembly
Katalin Csondor presenting her research at the vEGU21 Assembly
In the session of "Geoscience applications of environmental radioactivity" Anita Erőss was one of the convenors and Petra Baják presented her work: "The controls of radionuclide mobility in a siliciclastic aquifer in Hungary: Hydrogeological investigations and geochemical modeling".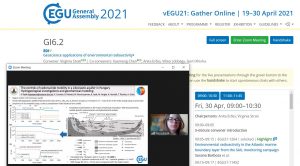 Petra Baják presenting her work at the vEGU21 Assembly
In the "Groundwater and water scarcity in dry regions: causes, processes, regional solutions" session Zsóka Szabó, in the "Exploration, utilization and monitoring of conventional and unconventional geothermal resources" session Ádám Tóth, in the "Hydrogeophysics: a tool for hydrology, ecology, agronomy and beyond" session Hana Ben Mahrez, and in the "How to assess climate change impacts on groundwater?" session Timea Trásy-Havril represented the ENeRAG project from ELTE.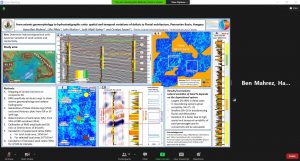 Hana Ben Mahrez presenting her study at the vEGU21 Assembly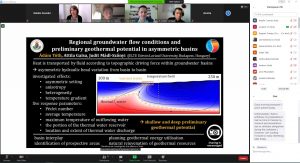 Ádám Tóth presenting his research at the vEGU21 Assembly
Timea Trásy-Havril presenting her work at the vEGU21 Assembly
The titles and the abstracts of their presentations:
Zsóka Szabó: Experimental rooftop rainwater harvesting by shallow well infiltration – A case study from the Duna-Tisza Interfluve, Hungary
Ádám Tóth: Regional groundwater flow conditions and preliminary geothermal potential in asymmetric basins
Hana Ben Mahrez: From seismic geomorphology to hydrostratigraphic units: spatial and temporal variations of deltaic to fluvial architecture, Pannonian Basin, Hungary
Timea Trásy-Havril: Complex groundwater flow systems in the light of climate change: response of combined fluid driving forces on recharge reduction
The EGU General Assembly 2021 gave an excellent chance again to meet online and share research and ideas among other researchers.