The traditional Innovation Day of Eötvös Loránd University (ELTE) was held online on November 12, 2020. As part of the main program of the event, Associate Professor Judit Mádl-Szőnyi, the scientific coordinator of ENeRAG took part in a roundtable discussion, which talked over the opportunities offered by EU Horizon 2020 and its successor, Horizon Europe.
The live discussion was moderated by Enikő Magyari, Deputy Rector of Science of ELTE. Judit Mádlné Szőnyi shared her experiences, mainly about the Twinning program and the importance of a good management structure.
Szonja Csuzdi, Head of the International Department of the National Office for Research, Development and Innovation, and Mihály Plesoczki, Director of the Center for Innovation,  Technology Transfer and Grant Affairs of ELTE, also took part in the roundtable discussion.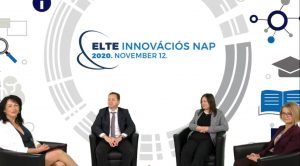 From left to right: Enikő Magyari, Mihály Plesoczki, Szonja Czuzdi, Judit Mádl-Szőnyi
The aim of the discussion was not only to introduce the current funding opportunities and programs concerning innovation, but also to encourage the interest of professors, researchers and students working at ELTE to submit proposals for EU Grants.