On 29th of June each year, the 14 countries of the Danube River Basin jointly celebrate one of Europe's greatest river systems, along with its people and the wildlife that rely on it.
Due to the various restrictions on public gatherings throughout the Danube River Basin as a result of the global COVID-19 pandemic, this year's Danube Day celebration were shifted, and the public invited to #DiscoverDanube online!
In Hungary, the organizing partners made an online quiz contest. For this occasion, the hydrogeology group of ELTE has created a tale of groundwater droplets, in which children can learn the possible path of water droplets on land, water, air and below the surface, all in a playful way. And with that they can gain insight into the world of hydrogeology.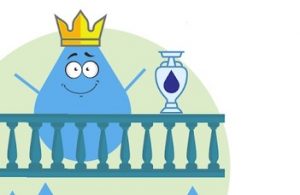 After completing all the quizzes, the families with the best results took part in a raffle. The most fortunate have benefited in tangible prizes. ELTE group donated the book of Judit Mádl-Szőnyi on geothermal energy. The awards were presented by state leaders at the Danube Museum in Esztergom.